Ag-Dachplattenrolle ehemalige-Ag-Dachplattenausrüstung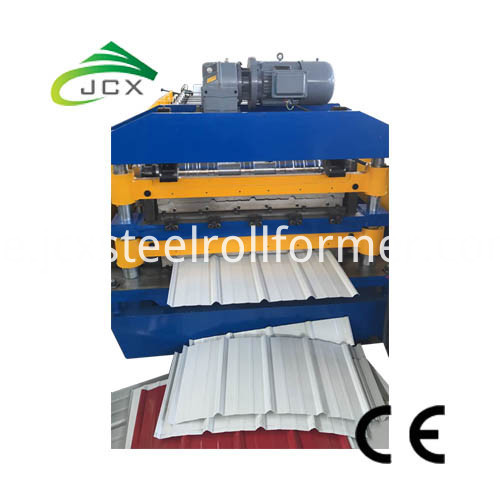 Unsere Trapez-Dachplattenformmaschine ist immer die erste Wahl, um ein Dach herzustellen. Jetzt verwenden die Leute viel Metalldach, um das Zwischendach zu ersetzen.
Diese Art von Dach hat viele Vorteile: einfache Installation, mehr Schönheit, geringes Gewicht usw. Es besteht aus manuellem Abwickelhaspel, Hauptumformmaschine, hydraulischer Schermaschine.
Spezialisierter Hersteller von Doppelschichtrollenformmaschinen, Wellblechrollenformmaschinen, cz Purlinrollenformmaschinen, verschiedene Ausführungen können als Ihr Antrag angepasst werden.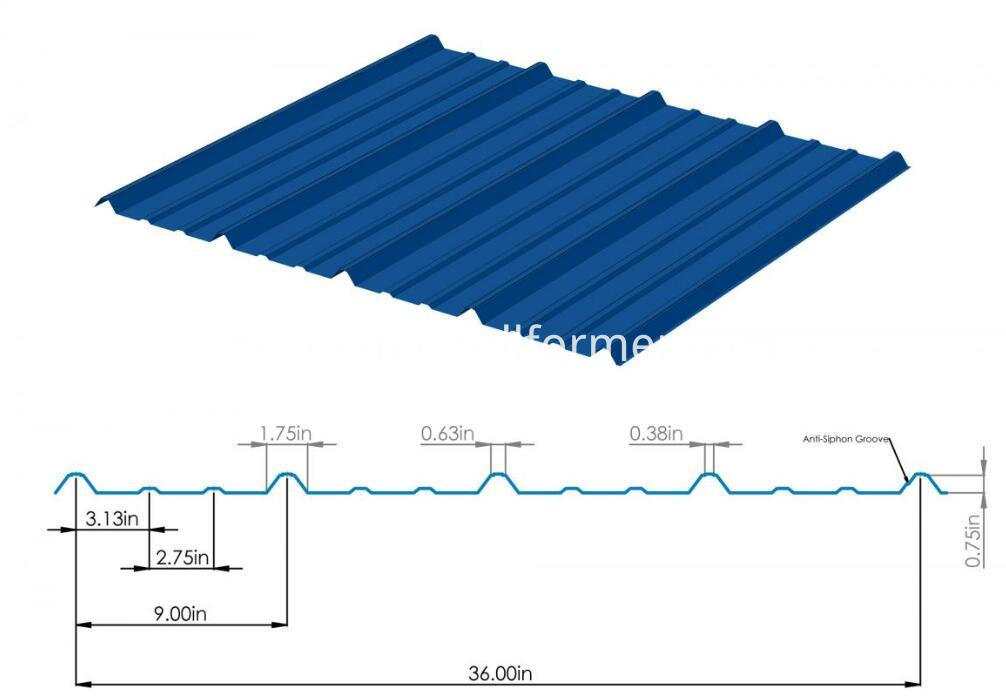 Komplette Fotos der Plattenrollenformmaschine
Material:

verzinkte Spule, farbbeschichtete verzinkte Spule

Materialstärke: 0

3.

-0.

8

mm

3) Streckgrenze der Spule: 250 mpa
Hinweis:
Wenn die Platte mit einer Beschichtung versehen ist, sollte die Beschichtung mit den Beschichtungsinspektionsstandards der betreffenden farbbeschichteten Beschichtung übereinstimmen, sollte keine Haut aufweisen, um die Qualität des Walzformens nicht zu beeinträchtigen.
Wenn das Material verzinkter Stahl ist, sollte das verzinkte Stahlmaterial den einschlägigen Prüfnormen des verzinkten Stahls entsprechen. Es sollte keine Zinkschicht vorhanden sein, um die Qualität des Walzprofilierens nicht zu beeinträchtigen.
1.
Lieferung von Komponenten der
kompletten Walzenformmaschine
NO.

Description

Quantity (set)

Remark

1

7

T

Manual

decoiler

1

2

Guiding device

1

One complete unit as main machine

3

Forming system

1

4

Transmission system

1

5

Hydraulic guillotine

2

6

Support table

2

7

Hydraulic station

1

8

Control box

1

9

Manual collecting table

2

10

Spare parts and tools

1

A

s attaching list
2. Allgemeine parameter der blattformmaschine
No

Item

Parameter

Note

1

Forming Speed

Max

12-15

m/min

Excludes

cutting

2

Forming station

18/16 groups

3

Total Power

5.5+4kw

\

4

Total Weight

About

54

00

KGS

5

Voltage

380v,

5

0hz,3p

6

Diameter of shaft

70mm

7

Installation Size

13

*

1.1

M

*1.4

8

Sizes of chain

Double 0.6inch chain

9

Thickness of wall structure

16

mm
12.
Hauptteile Material
No

Item

Parameter

Note

1

Forming Shaft

45# steel with grinding process




2

Forming Roller

45# steel

with

tempering heat treatment and hard chrome coating

3

Cutting Blade

Cr12 with hard treatment

4

Control System

DELTA

PLC& transducer

,

low voltage:SIEMENS

.

5

E

lectrical motor

From jiangsu

6

Bearing

C

hina quality brand

7

Chain

C

hina quality brand

8

Hydraulic parts

C

hina quality brand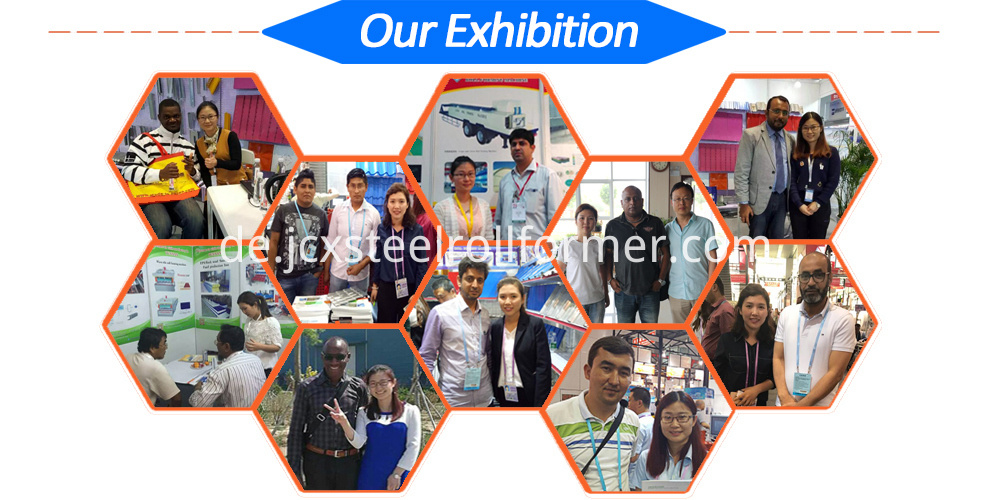 Produktgruppe : Dach-und Wand-Rolle, die Maschine bildet > Trapezförmige Rollenformmaschine