Pbr Panel Roll Forming Machine
pbr-Platten werden in den USA und Nordamerika häufig verwendet:
Eine Rollformmaschine hat gegenüber der Bremsformung und vorgeformten Platten viele Kostenvorteile. Wenn Sie nicht wissen, was das Rollenformen für Ihr Endergebnis leisten kann, sind hier nur einige der Einsparungen, die Sie erwarten können ... ·
Kein teures Versenden und Craten von langen Platten
(Lassen Sie Coils direkt an Ihr Geschäft oder Ihre Baustelle liefern
Kein Panel-Transportschaden und umfangreiche Verzögerungen
(Versuchen Sie einfach, ein Ersatzpanel ab Werk zu bestellen)
Weniger Arbeit und Abfall
(Führen Sie Ihre Platten ohne Zeit- und Materialverschwendung auf die exakte Länge aus.)
Arbeiten Sie nach Ihrem eigenen Zeitplan - nicht in der Fabrik
(Wenn das Dach fertig ist - führen Sie einfach Ihre Platten durch.)
Bilden Sie perfekte Platten in beliebiger Länge
(Bilden Sie lange Paneele auf der Baustelle oder auf dem Dach ohne Probleme mit der Kiste)
·
pbr-Plattenrolle, die Maschinenfotos bildet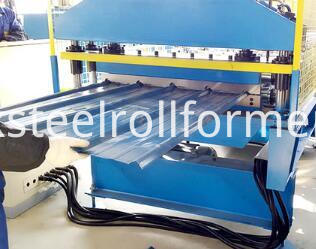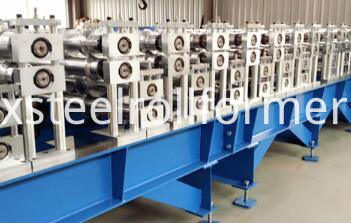 1. Detaillierte Parameter der Dachblechrollenformmaschine
No
1

Suitable Material
Colored Steel plate, Galvanized Board, Aluminum Plate
2

Width of the raw material
1000mm
3
Rows of rollers
14 rows
4
Appearance size
6.8*1.4*1.5m
5
Total power
3.7 kw
6
Thickness of raw material
0.2-0.8mm
7
Productivity
3-4m/min
8
Diameter of shaft
¢70mm
9

Voltage
380V 50Hz 3phases
2. Das Diagramm des Prozessablaufs der Dachplattenformmaschine

2.1. Komponenten und technische Daten
No
Technical Specification
1
Manual Uncoiler

Usage: It is used to support the steel coil and uncoil it in a turntable way. The steel coil is uncoiled by hand. Loading capacity:5T
Inner diameter: 500-508mm
2
Feeding Table

Put the raw material (steel plate) through the beach to manufacture and process, it can guarantee that the products are neat, parallel and everything is uniformity. Please refer to the equipment regulation to know the function of locate angle iron.
3
Main Roll Forming Machine

Material of rollers:45# steel,roller surfaces polishing, hard plating , The polished surface and the heat treatment towards the molds also can keep the molding plate surface smooth and not easy to be marked when it is being stamped.

4
Shearing Mechanism

It adopts the hydraulic drive and automatic location to decide the dimension and cut the target products.
Material of blades: Cr12,quenching treatment
5
Press Form

Press Form
Material of blades: Cr12,quenching treatment
6
Hydraulic System

Power:4kw,Hydraulic oil: 40#
Hydraulic oil into the hydraulic oil tank, the pump drives the cutter machine to begin the cutting job.
7
Computer Control Cabinet

The target piece`s length is adjustable and digit of it can be adjusted. Computed mode has two modes: automatic and manual one. The system is easy to operate and use PLC
8
Spare parts
one box
3. Verpackungsmethode
Hauptmaschine ist nackt; Die Computer-Steuerbox wird im Karton verpackt
4. Transport
Alle Maschinen benötigen einen 40-Fuß-Container zum Halten
5. Zahlungsfrist
30% Anzahlung bei T / T im Voraus und 70% Restbetrag nach Bestätigung vor dem Versand
6. Lieferzeit
Innerhalb von 30 Tagen nach Erhalt der Anzahlung.
Garantie Zwei Jahre lang bieten wir technische Unterstützung für die gesamte Lebensdauer der Ausrüstung.
Hinweis:
Wenn die Platte mit einer Beschichtung versehen ist, sollte die Beschichtung mit den Beschichtungsinspektionsstandards der betreffenden farbbeschichteten Beschichtung übereinstimmen, sollte keine Haut haben, um die Qualität des Walzformens nicht zu beeinträchtigen.
Wenn das Material verzinkter Stahl ist, sollte das verzinkte Stahlmaterial den einschlägigen Prüfnormen des verzinkten Stahls entsprechen. Es darf keine Zinkschicht vorhanden sein, um die Qualität des Walzprofilierens nicht zu beeinträchtigen.

Produktgruppe : Dach-und Wand-Rolle, die Maschine bildet > Trapezförmige Rollenformmaschine